Hot List of Uniquely Spooky Anime Characters To Cosplay for Halloween
Time flies so fast. In just a blink of an eye, we are going to celebrate the spookiest and most terrifying event that we cannot resist participating in:The Halloween. This is the perfect opportunity to dress up horribly, not in a way that people will chit-chat about how bad your fashion sense is, but to dress like Pennywise, the classic Freddy Krueger, or John Mayer from the Texas Chainsaw Massacre! The foggy, cold atmosphere during this month perfectly suits this event as it adds to the haunted feeling of walking through the dark night alone.
Little do we know that this is also an incredible opportunity to strut your favorite anime characters that you want to portray! If you are a fan of manga and anime, you may want to portray these anime characters for this upcoming Halloween. You will surely attract the attention of people of all ages for your anime cosplay.
Top 5 Hot Picks of Anime Characters To Cosplay For Halloween
Naruto is undoubtedly one of the most famous characters to ever exist in the world of anime. This mischievous ninja who paved his way to become a Hokage is an ideal character to portray this Halloween. However, you do not want this hurt his friends as you may unleash the scary nine-tailed fox in him. His suit is pretty easy to imitate. In fact, there are thrift shops and stores that sell Naruto's full outfit. You just have to be patient when finding these deals.
If you really can't find one in stores, you can always customize it on your own anime cosplay. You just have to find a light orange jacket-like suit with some blue accents in it. You have to use the same colors on the bottoms too. Also, do not forget what makes Naruto Naruto, the metal plate on his forehead with the Konoha sign!
Mirajane Strauss from Fairy Tail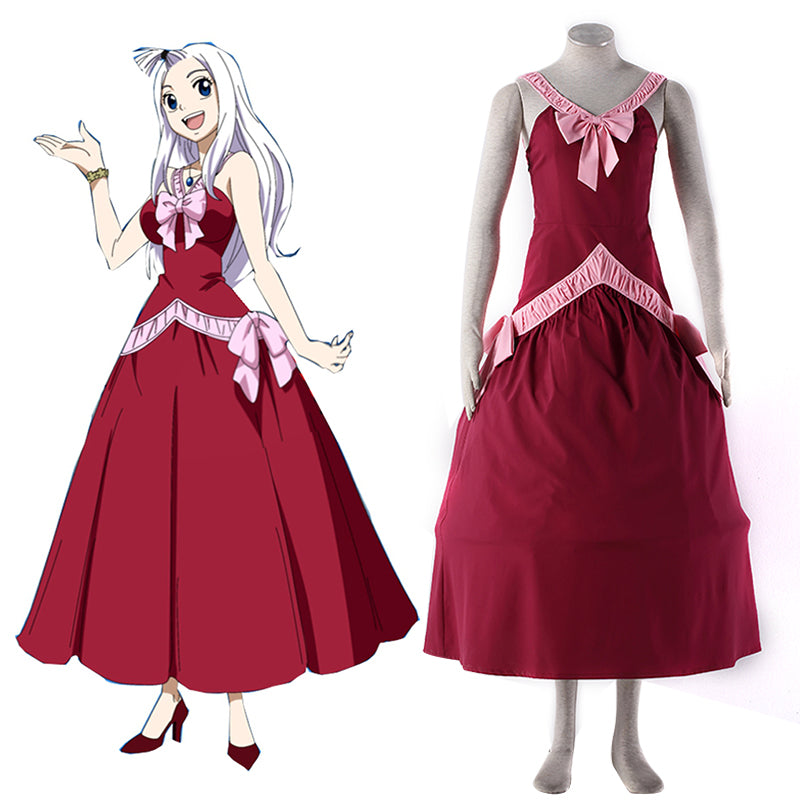 A beautiful young lady with a sinister secret, Mirajane Strauss from Fairy Tail is worthy of your time. She is an S-Class mage from the guild of Fairy Tail with the infamous takeover magic, allowing her to transform into various different demon forms. In human form, she's just as sweet as she looks. She is soft-spoken, generous, and a respectful lady who cares a lot about her family and her guild. You don't want to push her to the limit because she can certainly knock you down in one hit. Possessing satanic souls, her magic allows her to wield power enough to take down her enemies.
If you want to cosplay her, simply look for a red dress with pink ruffle straps and a pink ribbon. That's it! You can also see her wearing a black off-shoulder, long-sleeved dress with white ruffles on the bust line. She also wears a black ribbon around her neck and an upward ponytail for her hair. If you are bold enough, you can dye your hair white or even platinum blonde for the complete look.
You have probably heard of him because he has become a big time anime crush since the franchise started. Humanity's strongest soldier, Levi Ackerman, is a fan favorite that you can cosplay this Halloween. His deadly stares can definitely spook you out. We often see him appear in a white top and a brown leather jacket with the "wings of freedom" military patch, the logo of the Survey Corps. He also wears straps around his thighs and a pair of high-cut boots. He also has a green cloak wrapped around his neck with the logo of the Survey Corps at the back. It is very easy to cosplay because you only need to have the logo of the Survey Corps and the rest can be bought separately from the white top, jacket, straps, and boots. Do not forget to color your hair black and wear a dull gray contact lens for a perfect Levi Ackerman anime cosplay!
If you are a fan of casinos, she is definitely the one you need to cosplay. Yumeko Jabami, a student at an exclusive school for gambling. Quite bizarre, isn't it? Well, it is true that the students come to school to gamble for their lives, literally. Some bets can be as normal as money and as strange as a human nail. One thing is for sure: Yumeko came here to play and win the bets for fun and excitement. She has a quite creepy behavior in that she feels thrilled about the risks and consequences of losing a bet. She is not dubbed as the "compulsive gambler" for nothing!
To steal her style, you just need to buy a classic white top, a long-sleeved red coat with a black collar and a black fold at the end of each sleeve, a plain pleated black skirt, high-cut white socks, and a pair of black doll shoes with straps. You also need a black tie to complete her uniform. If you want to go all out, you can cut your hair with bangs and wear a red-colored doll lens. You can easily find these items separately in walk-in stores or in set mostly in online cosplay stores.
Kaonoshi from Spirited Away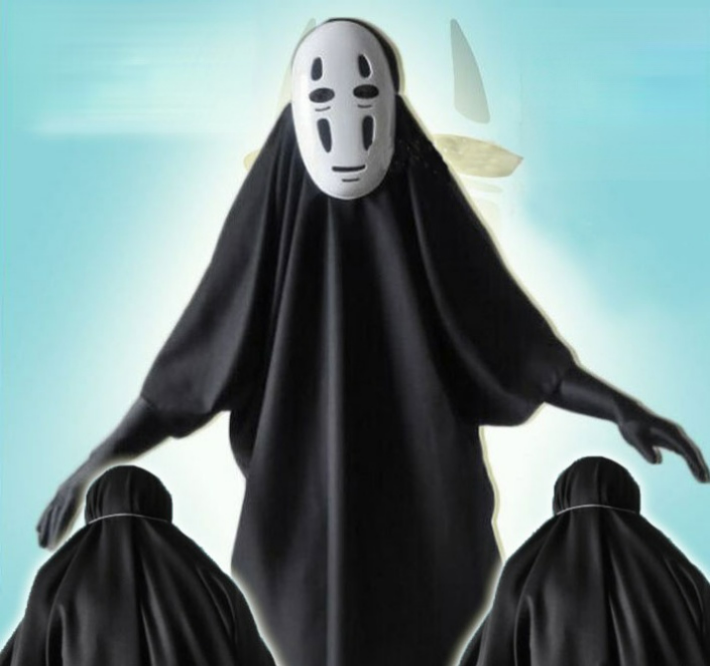 This character is definitely the easiest to cosplay this Halloween. Kaonoshi, or "No Face," is an antagonist in the movie spirited away but has made a remarkable character development as the story progresses. Kaonoshi is a spirit who wanders and adapts to the emotions of the people around him, especially those who exude negative emotions. His fascination for this made him an antagonist as Kaonoshi's behavior becomes untameable at some point in the story. In reality, this famous spirit is docile in nature and is mute whenever it is not consuming any emotion.
If you want to know how Kaonoshi developed from an antagonist to a supporting character, you'd better watch the movie yourself! To cosplay Kaonoshi, you can simply have a black cloth large enough to cover your whole body and the customized mask for a "No Face" look! Since it is pretty thrifty, you should invest in making the mask as detailed and as similar as possible.
Now that we have already given you ideas on who to cosplay as, it is now up to you to execute everything. We chose characters that are easy to cosplay, so it won't hurt your pockets. Additionally, each character made a remarkable contribution to the world of anime, enhancing the reputation of their respective franchise. The decision is still up to you, and you can always pick a character from the list. Remember, be amazing and be spooky!